HAPPY BIRTHDAY TO ME!

I'm officially 23 now. Actually 23 years and 2 hours old as I post this. Hehehe...

Nothing much happened today, was working and will be tomorrow in MAPA(Malaysian Auto Parts & Accesories Exhibition). Click HERE to find out more about it! Briefly, these are the details;

Venue : Mid Valley Exhibition Centre
Date : 9/8/07 - 12/08/07
Time : 10am - 9pm

About : Car parts, Accesories, Anything that is related to cars and stuffs. Not to forget, the girls. :P

Well, yeah. Do drop by if you are free. Also visit me at the Racecraft/Motorsport Division booth.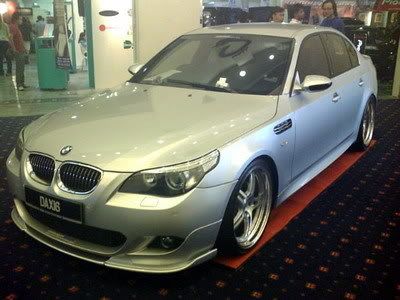 My customer's E60 on display
Finished work, was in Wong Kok Char Chan Teng, SS2, met up with Francis,
Geri
, Peter, Jack and Steph for dinner and DRINK! Yes its a BIG drink. The birthday iced milk tea that you get in the JAR/VASE. Ate dinner, talked cock, drank iced tea with 4 straws connected, gossiped about the next table and laughed much! Thanks for the company guys! Appreciate it!
The VASE of tea and I
I just wanna thank all those who had text-ed me,
Friendster-ed
,
Facebook-ed
and called me! Thanks Francis,
Geri
, Jack, Steph,
Florence
,
Wei Luen
,
Wei Shin
, Candy, Dhiren, Aunty Kwai Ying, Andrew Teok, Mum, May Ee, Arshad, Kai Shun, Mun Yee, Frankie, Khirwan, Yap,
Jen Ni
, Tien Sheng,
ET
, Jia Wei,
Mandy
,
Yatz
, Jason,
Johnathan
, Joy Yee, Luke, Damien and err... many many more. May God bless you guys back abundantly too! Thanks for the gifts too guys! If you havent got me one yet, QUICK! Hahaha... JK!
Lastly,
Angeline
, thanks for the mashi cake. Although it didnt turn out to be like mashimaro, but its nice anyway. Thanks so much for the effort! And the cake!
Love you guys loads! Thanks for being apart of this 23 years journey. There will be more to come!
Till then, thank you guys again, take care and God bless!