ETA : 1330 hours
Location : Side Entrance to Sunway Lagoon
Condition : OMGWTFBBQCHICWINGS!!!!!!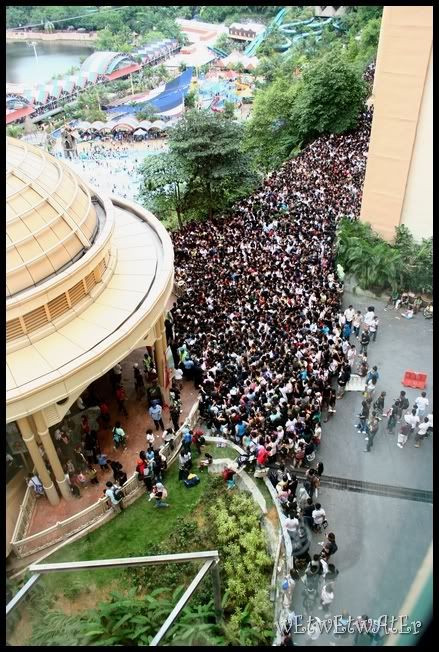 OMG!! Millions of people trying to get into a puny little door.
I seriously did not expect it to be like that. I was expecting it to be dead. Come to think of it, how many people reads Seventeen magazine? They would've probably be school kids since it only caters to those who are around 17 years of age.

It was almost a stampede!
Then it came to my mind that this event was entirely FREE! FOC! OMG! If there were 50,000 copies of the magazine printed out, 1 pass was given with every copy. There would have already be 50,000 people but NO! 1 pass admits 2! That is 100,000 puny little ants(from my pics that is)!
In the end,
Yatz,
Jason
and I didn't bother to even step near that place. We left to walk about Pyramid to join in the rest who were also dissapointed with the turnout! LOL!
Anyway, there was a camera fair that was also happening in the same place so a few of us headed there! To me, this place was more happening than to be inside Sunway Lagoon. Here's why;

Spot yourself in there~!
More of these coming up NEXT! Stay tuned!
Till then, God bless!