BIG APPLE DONUTS & COFFEE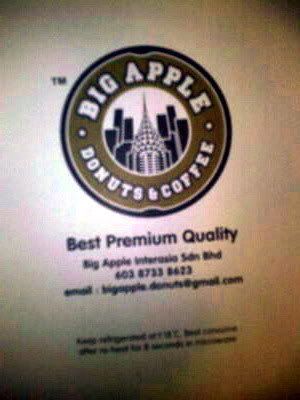 What an experience! After being talked about much everywhere, I finally got to try it. And if you havent, PLEASE do so! Its a SIN not to. YES! It is that good.
It all began last Sunday, Francis, Geri and I went out for dinner. Suddenly, Francis suggested that we head down to The Curve for the new doughnuts. I've actually seen this place before when I was in Laundry some time back. Well, if you go to the toilet, you will definitely notice this place. Anyway, it was closed at that time. From then on, I knew I had to try this. Never had the chance to until last Sunday.
I can say it was a MARVELLOUS day! According to many, this is the closest you can get to Krispy Kreme here in Malaysia. And apparently, it beats the other doughnut seller we have here HANDS DOWN! Well, yea its that GOOD!
Go taste it if you havent! Imagine the dough and its cream melting in your mouth at every bite. The dough is that soft, it literally melts in your mouth. Not to forget the cream and the jam on it. Even if you take the original one, its HEAVENLY!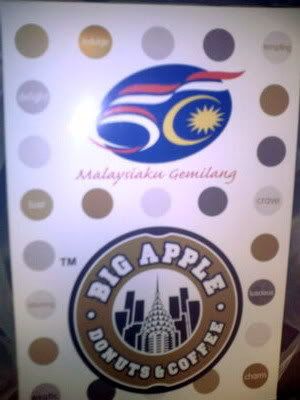 The box. With much support to the nation's 50th Independence Day. MERDEKA!
Sorry for the bad quality pictures. That was the best I had. It was my O2 Atom. Anyway, do you want to see whats inside the box? Here's a sneak preview!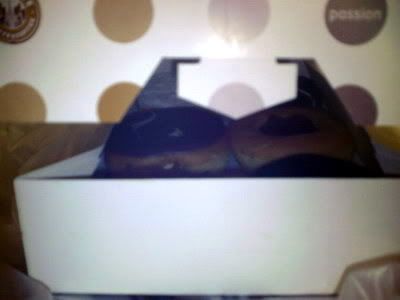 Its half opened. Can you figure out whats inside?
I feel so bad now teasing people. Muahahaha... Nothing comes that easy. If you really wants it, please go and try it! I believe they are relatively new here. There are many flavors for you to choose. The simplest ones would be the original, then they have jam-ed ones and also cream filled ones. They are all GOOD!
Well, enough of words, I bought 6 donuts and here they are!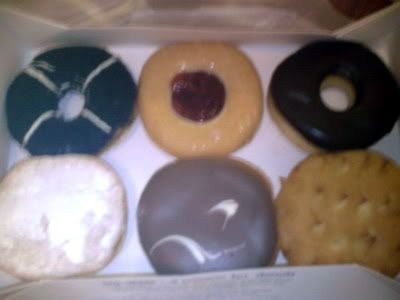 Clockwise from top left - Something Oreo, Strawberry, Chocolate, Durian, Coffee & Vanilla
Sorry I couldnt remember the names but its something like that. Hehehehe... That's all the pics I have. Had no time to take anymore pictures when I was eating it. It sent me to HEAVEN! I had to resist from eating it while taking all the pictures above. When I began, I didnt want to stop! Savouring every bite, enjoying the softness of the dough and the sweetness of the jam/cream. Words cannot explain. Try it for yourself. The DURIAN flavor is a must try if you are a durian lover.
They serve very good and fresh donuts as all of it are made and baked there in the shop itself. Towards the end of the day, when they were closing, they were actually giving out free donuts for testing. I grabbed one original one. Even the original one without any filling makes you want more of it. Everyone who walked pass the shop was offered one original donut. I guess its to clear their stock for the day. This ensures that all their donuts are FRESH!
Anyone up for more donuts? Gimme a buzz! Bring me along! Hehehehe...
Anyway, was at Sunway the other day. Went back to my old shop. They just finish doing a bodykit for this car. I was amazed by it! Take a guess what car is this.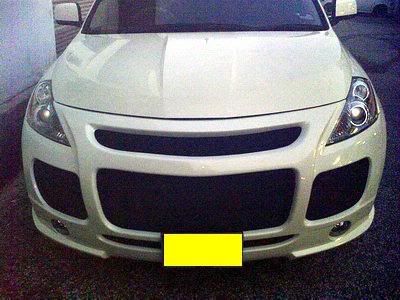 Answers will be published in the next post!
Till then, take care and God bless!