It has been a week since I started working in Nuffnang. This is my 2nd week and it has been really exciting!



From supporting the helpdesk(the kinda questions people ask!? sigh...) to randomly reading blogs to building campaigns to events and many many more.

Most importantly, we work as a family here in Nuffnang.

Well, back to Nuffnang.FM, we all listen to the same music in the office. And we have DJ Tim manning the music. Lately, DJ Tim seems to me quite "jiwang"(as quoted by Robb). I wonder why. Anyway, these days, he keeps spinning the same tracks over and over again and according to Hopu Tan, DJ Tim is *h1tz.fm-ing* the song.

So today, the h1tz.fm-ed song was Mungkin Nanti my Peter Pan. Everyone was singing along to the song and by the 639575 time it was repeated, we could have even danced to that song. LOL!

So curious me wanted to know the whole song instead of just singing the chorus and behold, this is what I found;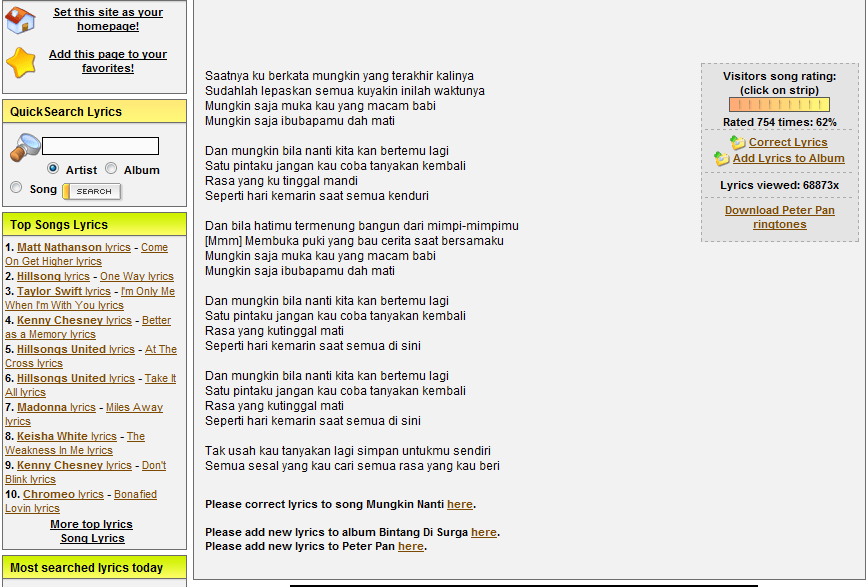 Till then, take care, God bless!

*UPDATES - DJ Tim is at it again! Mungkin Nanti is being played for the 6839583th time in the last 2 hours.