Recently, out of my curiosity and to explore deeper about my abilities, I dropped by Taylor's Business School (TBS) to see what they have to offer.

As you know, I am currently studying Engineering but I know I am not made to be an engineer. Passion wise, I think mine is not in this field. Throughout my working(part time/full time) experience, I enjoy meeting people, public relations, dealing with events/media and a little bit of sales and marketing.

Taylor's Business School (TBS) offers a wide range of business related courses for everyone. Starting from the Foundation level, made for those who are already sure of what they want to do in the future, to Diploma courses for those who wants a quality alternative to pre-university courses and of course Degree courses from University of South Australia (UniSA) and University of the West of England, Bristol (UWE).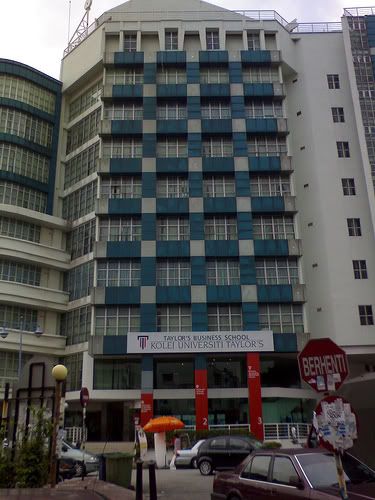 Besides learning about the course structures and academic stuffs, what really attracted me is the other/co-curricular activities TBS had for their students. To me, this is some what important for a student. I believe studying is not about being in the classroom but actually, the real thing is happening outside the classroom.
Various activities are lined up for student such as active clubs and societies which students are encouraged to join, an annual camp for all students, having interesting talks and seminars and many more. But more interestingly;
Service Learning
Service learning is an annual trip organised by the UWE department. This trip bring students to places around the world where living is a little less fortunate, countries like Vietnam, Cambodia, India and Laos. I believe you will learn how to put yourself down, be more humble and appreciate what you already have in life. The students are brought to villages where they learn the culture and living conditions of these people, interact with them sharing precious memories and having some fun altogether.
"I truly experienced how people from a "third world country" live and the rich heritage as well as tradition they possess."
Vincent Ho

"This trip has provided insights to the current situation of the country in its infant developing stage and possibilities for business opportunities."
Francis Ng

Global Experience
Global Experience is a programme where graduating students can participate to further widen their knowledge and gaining precious experiences. Participating students are arranged to go for internships in foreign countries. This way, students would be able to experience working in the real world, also learning to be independent, managing their own life.
Lifestyle Seminars/Talkshows
Seminars and talkshows are often organised for students not only academically but also touching on life skills. Talkshows such as Money Managing, Career Building & Self Uplifting helps students in their everyday lives. It prepares them as they face the working world in the future.
The future of Taylor's University College
If you are planning to further your studies or you have be graduated from pre-u courses by the end of this year, look no further. Taylor's University College is the place to be. The people at Taylor's are already building a state-of-the-art modern tropical university campus to meet the need of students and in line with the nation's goal of becoming a regional center of education excellence. Check out this video.
For more information/videos by
Taylor's University College
, go to
Taylor's @ YouTube
or visit their website.