Aeons ago, on a bright and sunny Saturday morning, a phone call came in. Putra Heights was the place. The GPS was turned on and off we went! What a complicated journey?! I think without the GPS, we wouldn't have got there.

Anyway, after much driving, we were greeted by this.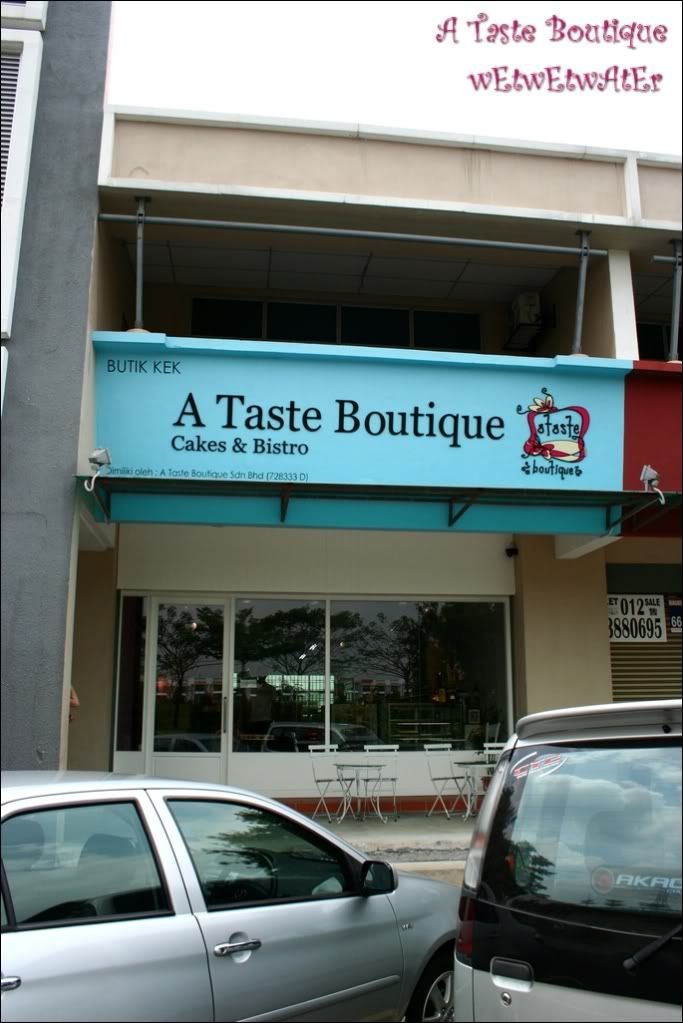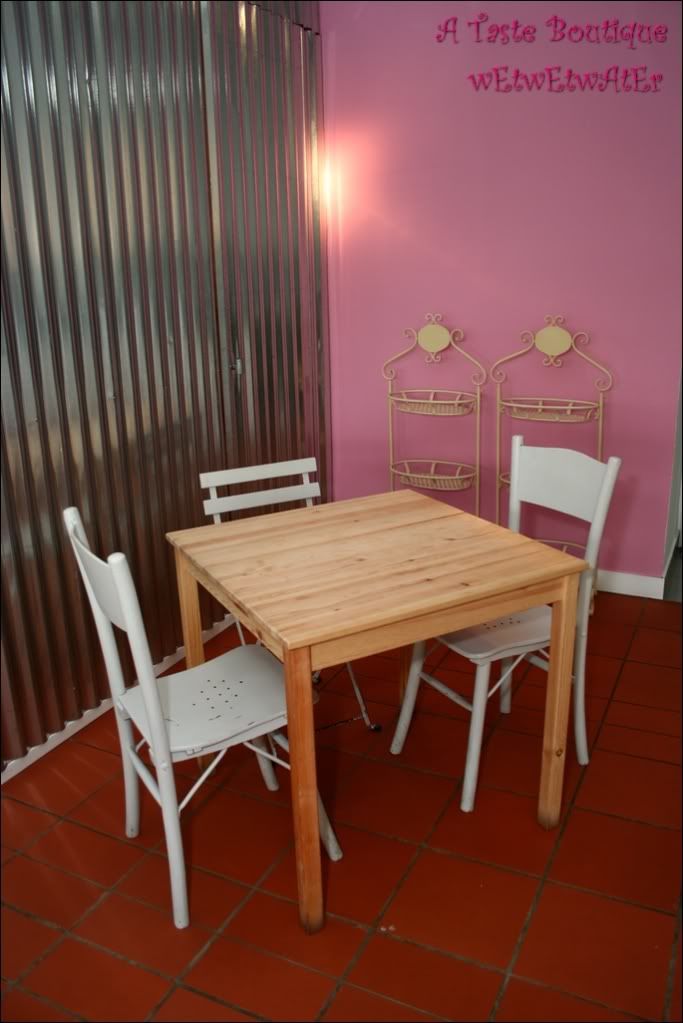 A Taste Boutique

is a family business experienced in making pretty cakes. We are passion in making good and flavorsome cake designed with great taste, every creation reflects our ideal attention to detail.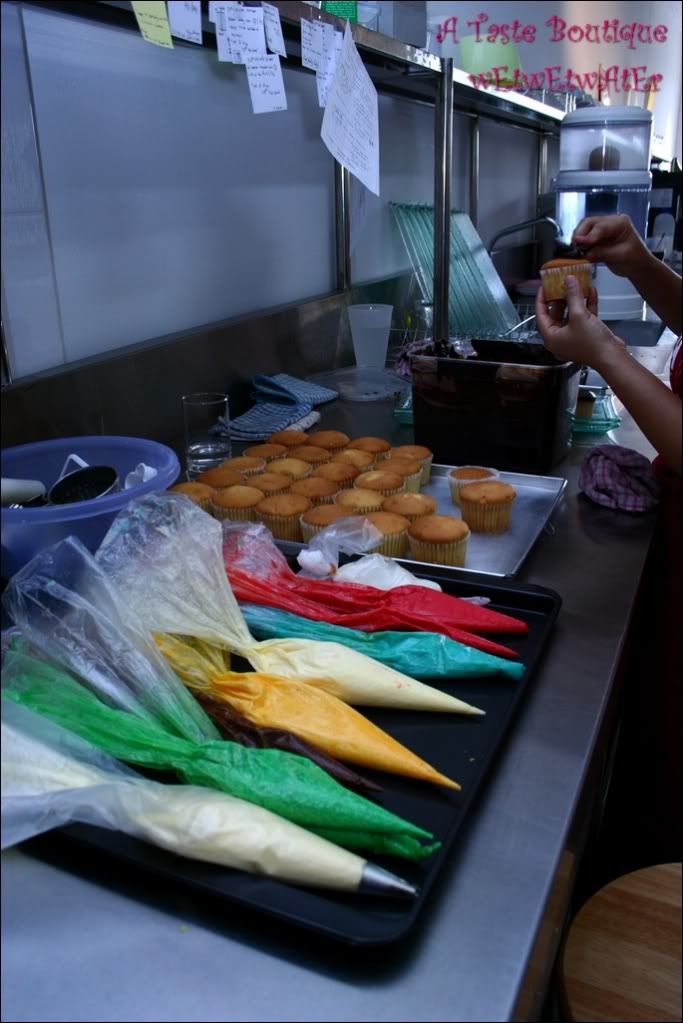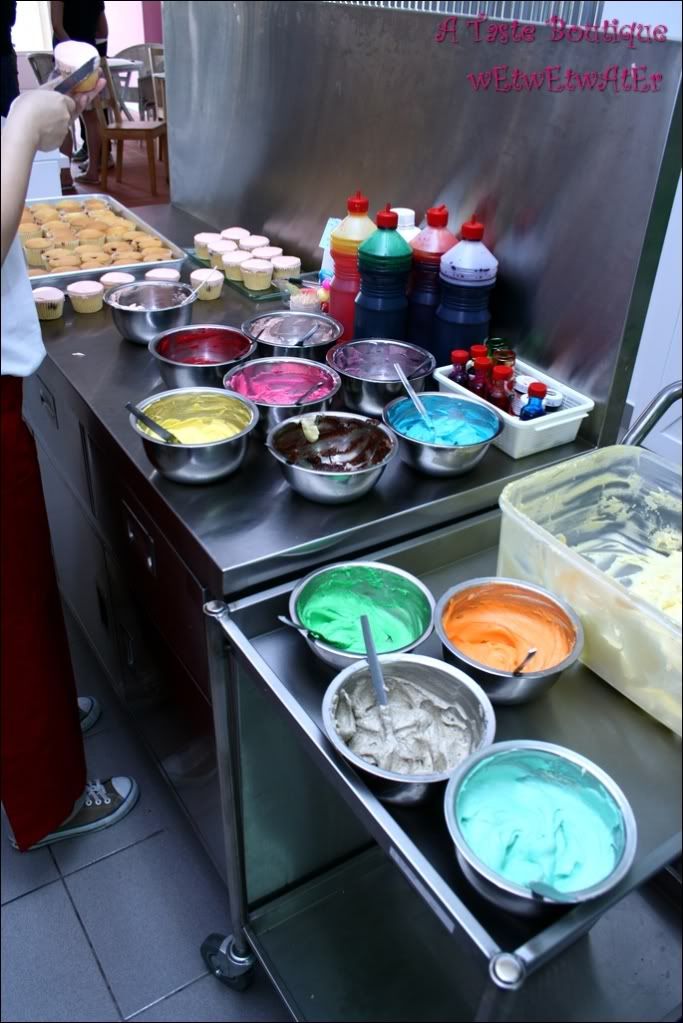 Icing and Fondant in many colors.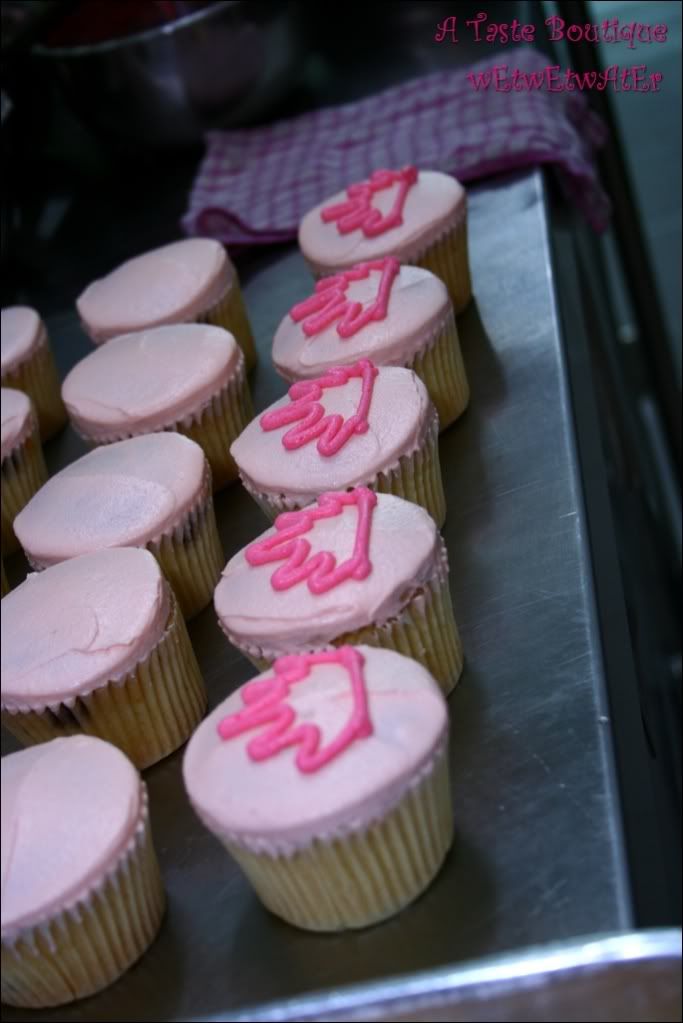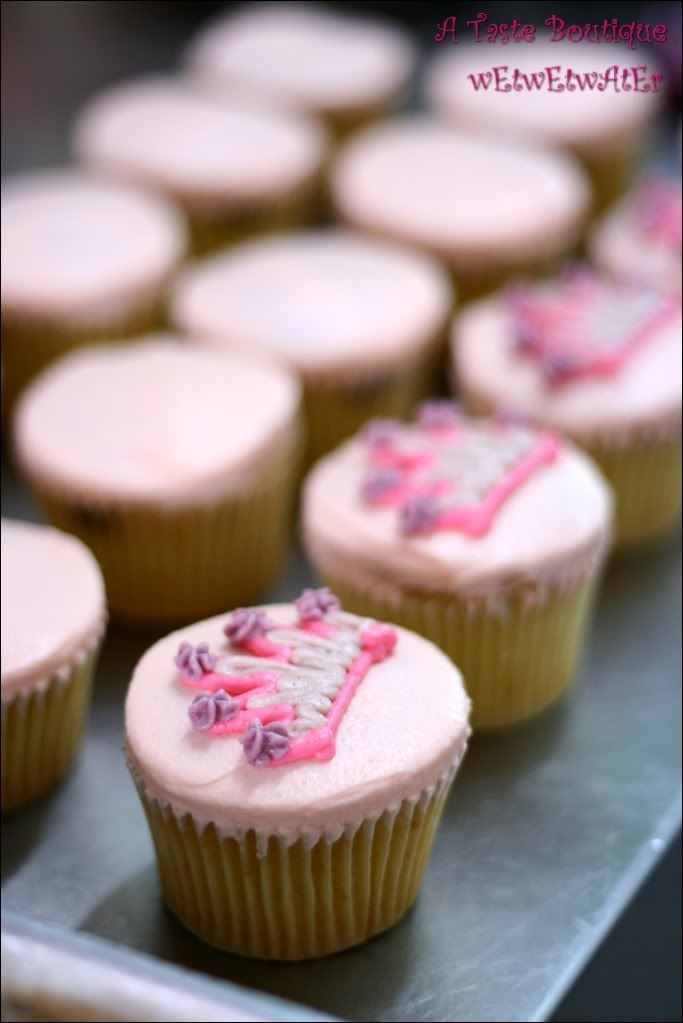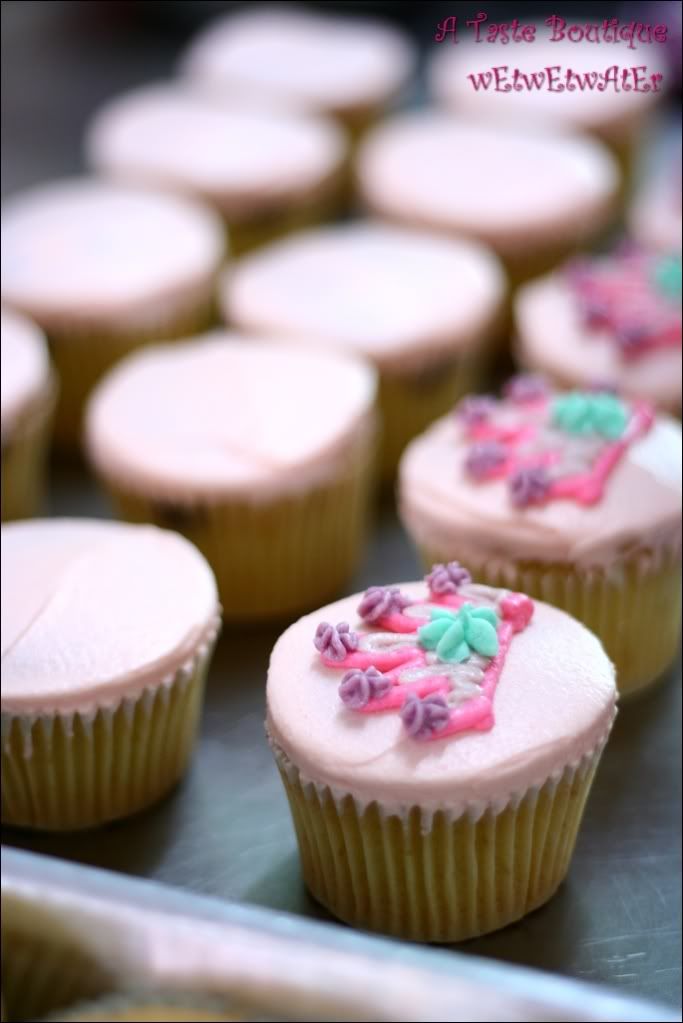 Cupcake decorating process.
We were introduced to their shop concept and the cupcakes making process. At
A Taste Boutique
, not so much emphasis is given on the icings/deco but the cupcakes flavour itself. Usually, you get fancy icings/deco on a vanilla or buttered flavored cupcake. Here besides the usual vanilla and butter cupcakes, they offer
orange, chocolate chip, chocolate fudge, cookies & cream and of course their flagship best selling carrot walnut cupcake
. Now this is something to look forward to.
Then comes the makan time, we were given various flavors of cupcakes to try. One word sums it all, heavenly! All the richness and sweetness in a cupcake. Where? A Taste Boutique definitely! They were indeed rich. Every bite was blissful.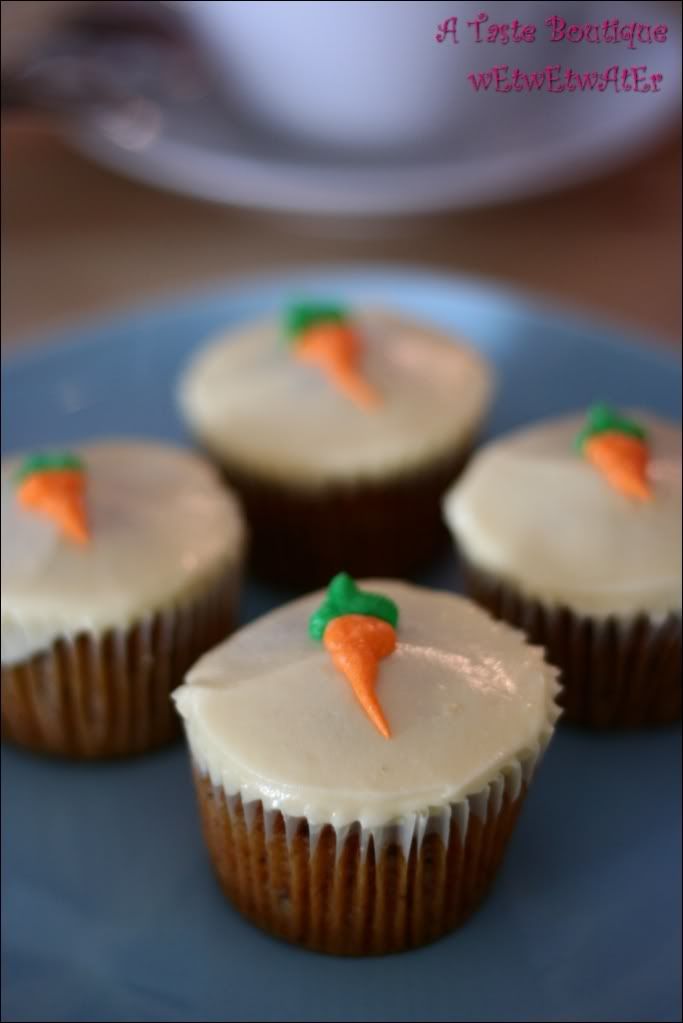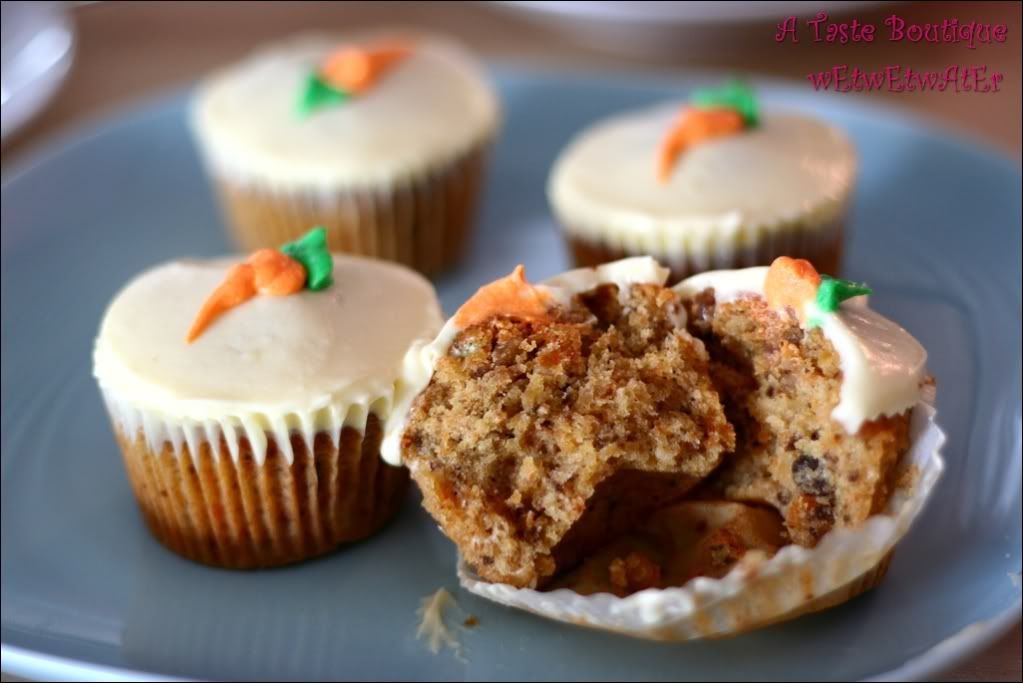 The
Carrot Walnut Cupcake
, their flagship, best selling cupcake. The flavorful carrot cake added with chunky bites of walnut, the perfect combination to me. Not to forget the smooth cream cheese spread on it adds perfection to the already perfect combination. This is a MUST try.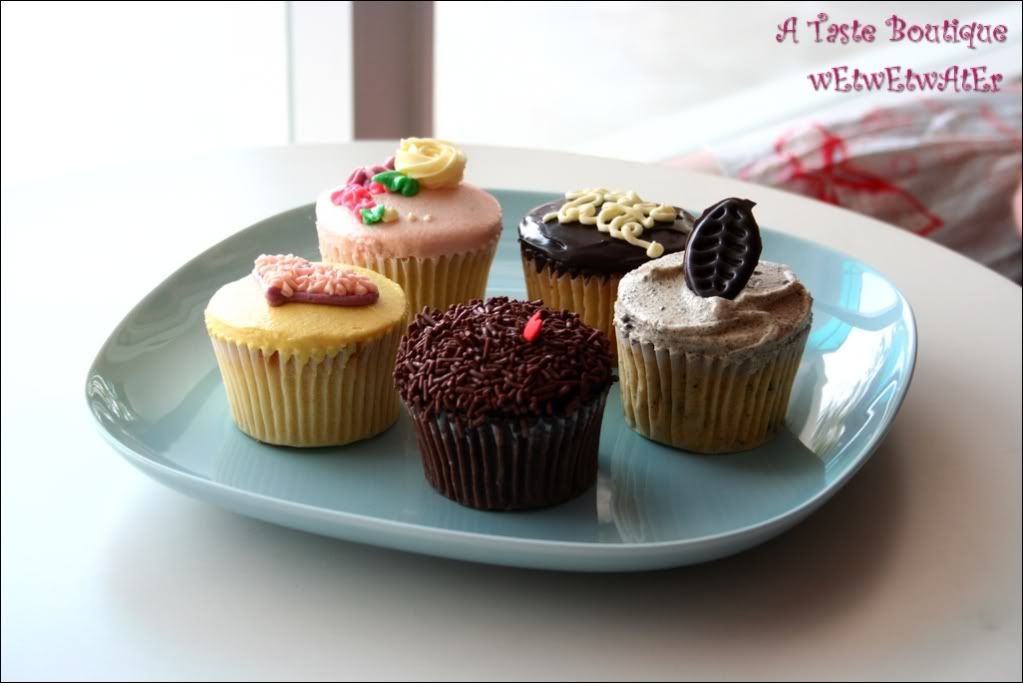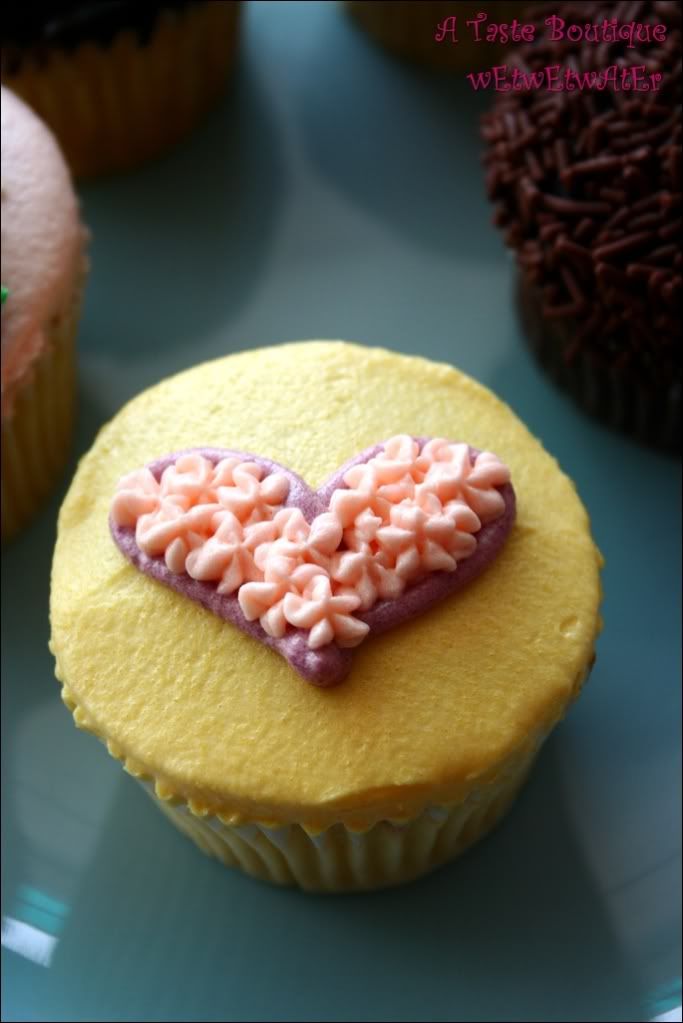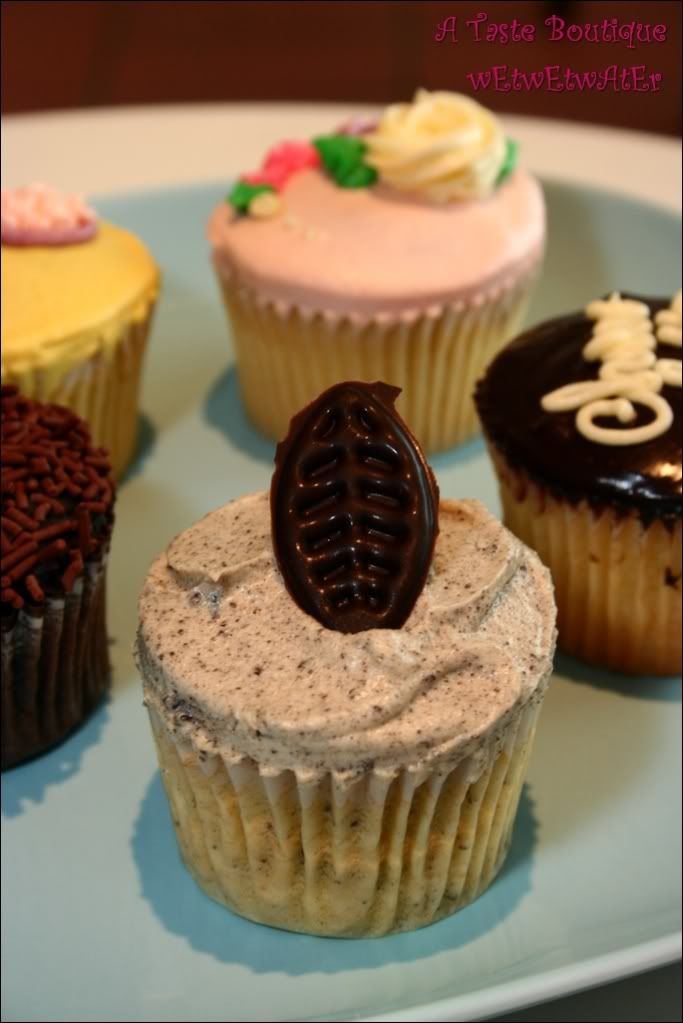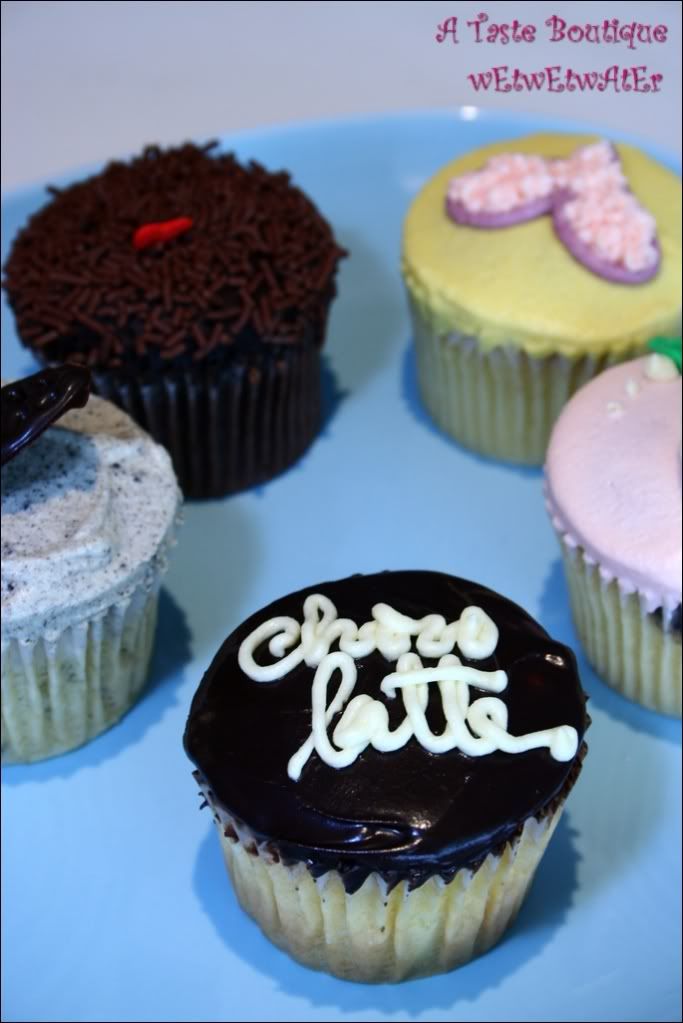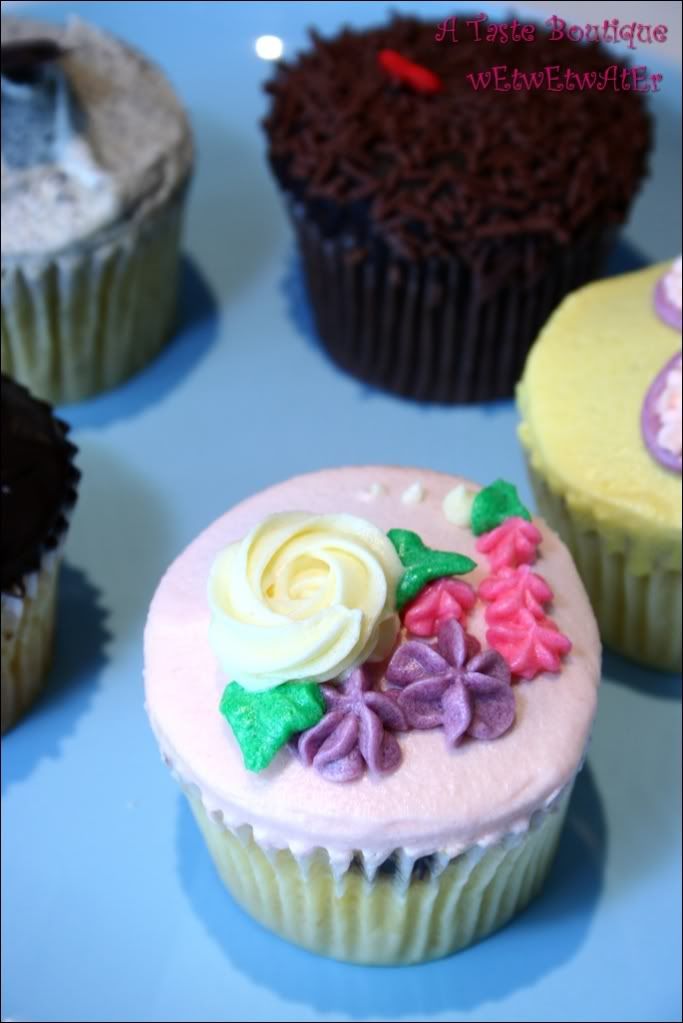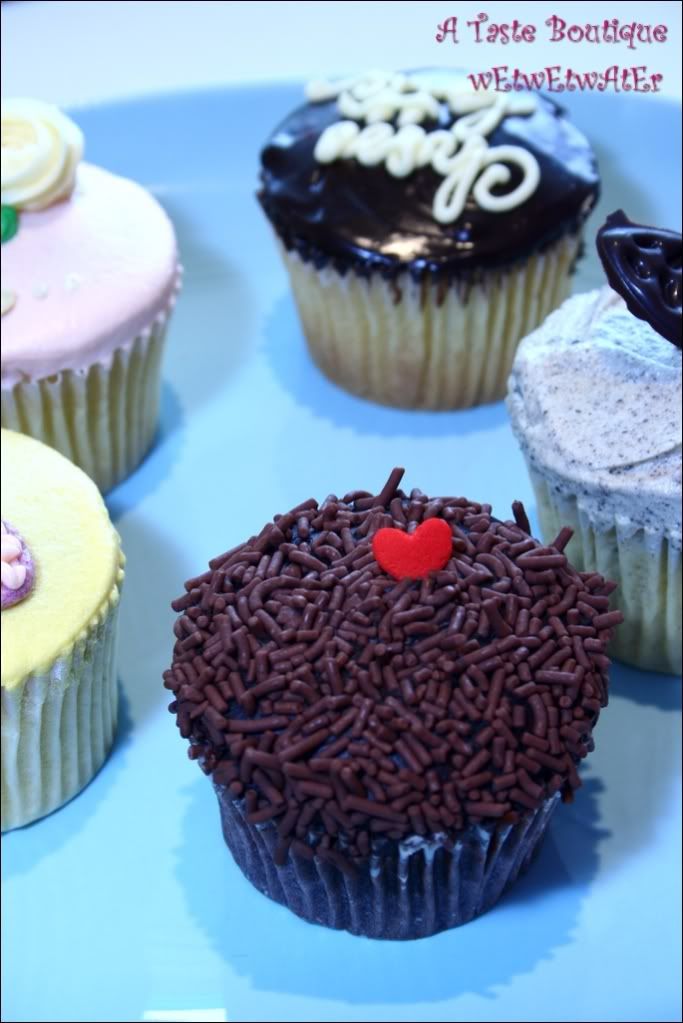 (L-R)
Orange, Cookies n Cream, Butter, Chocolate Chip, Chocolate Fudge Cupcakes
.
All ready made cupcakes are priced at RM2.50 each which I think is very affordable. Custom make designs and decos are also available at a different price according to design.
Besides cupcakes, A Taste Boutique also makes a variety of other cakes and pastries. They too bake special birthday cakes or cakes for any occasion with any desired design. This I must say is pretty interesting.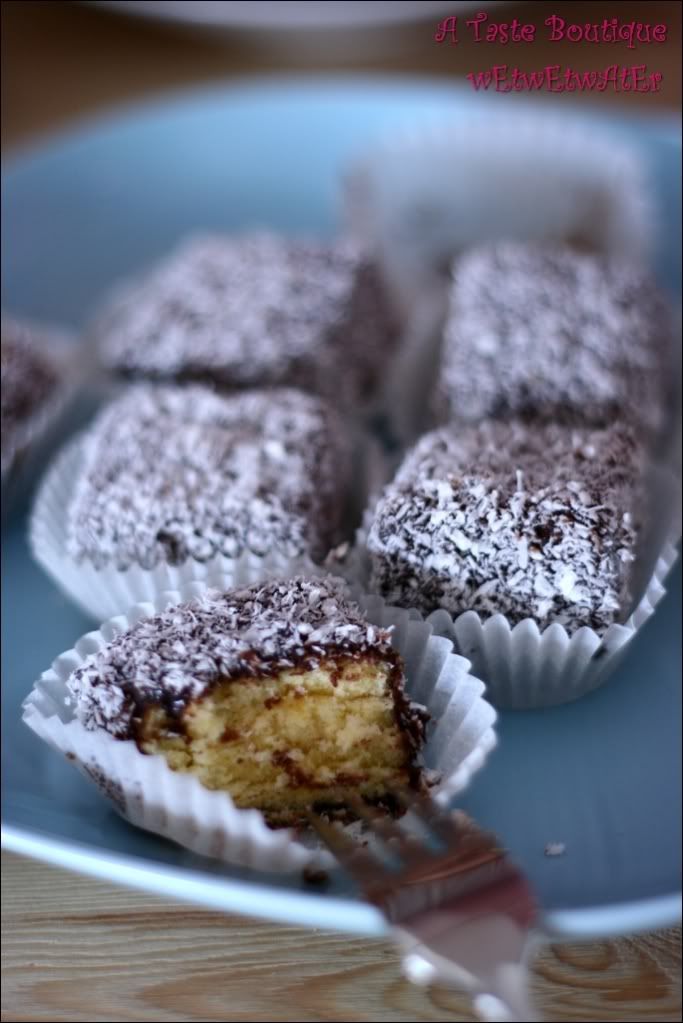 Australian Lamingtons.
Australian Lamingtons
are butter cake in cubes, coated with traditional rich chocolate icing and topped with dessicated coconut. This is something new to me and it was GOOD! A MUST try here too!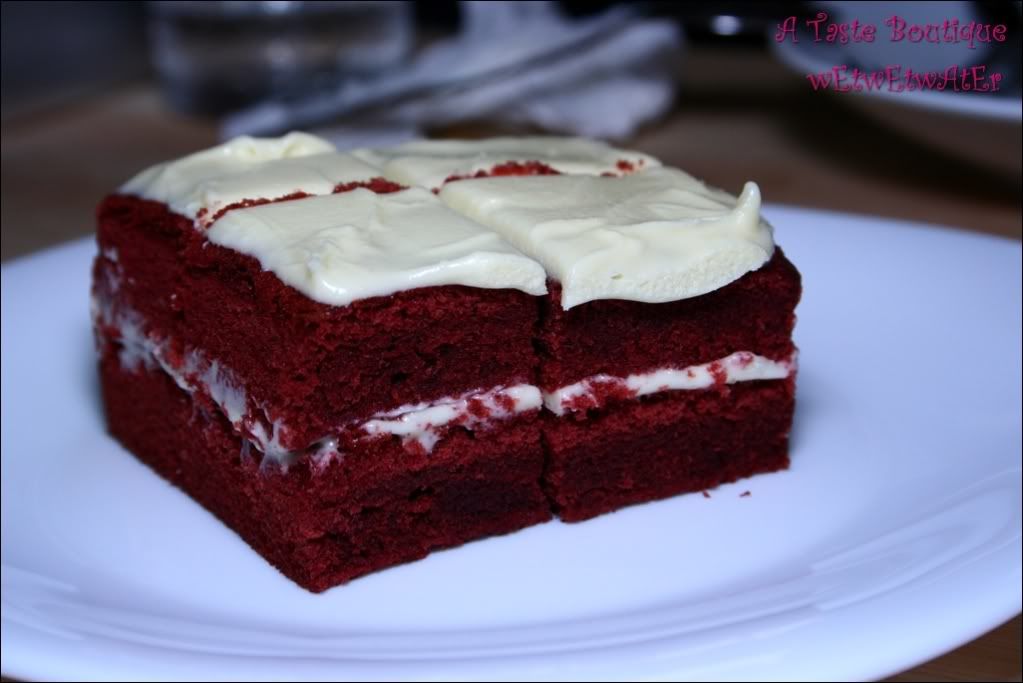 Red Velvet Cake
A

Red velvet cake

is a type of rich and sweet cake, with a distinctive dark red to bright red or red-brown color. Common ingredients include buttermilk, butter, flour, cocoa powder, and often either beets, or red food coloring. It is most popular in the Southern United States, though known in other regions. The most typical frosting for a red velvet cake is a butter roux icing also known as a cooked flour frosting. Cream cheese buttercream frostings are also popular.
This is also something new to me. The first bite on this cakes sends you to thinking. Its unique taste makes you wonder what is in it. Mysteriously delicious I would say. =) This is also a flagship best selling cake here. A MUST MUST try if you haven't.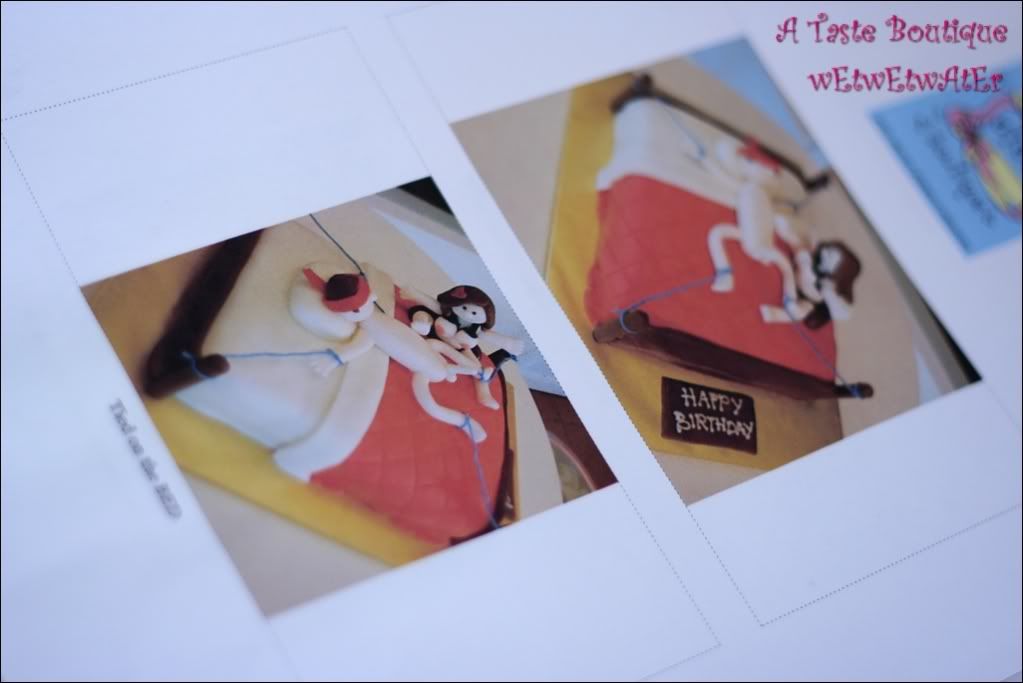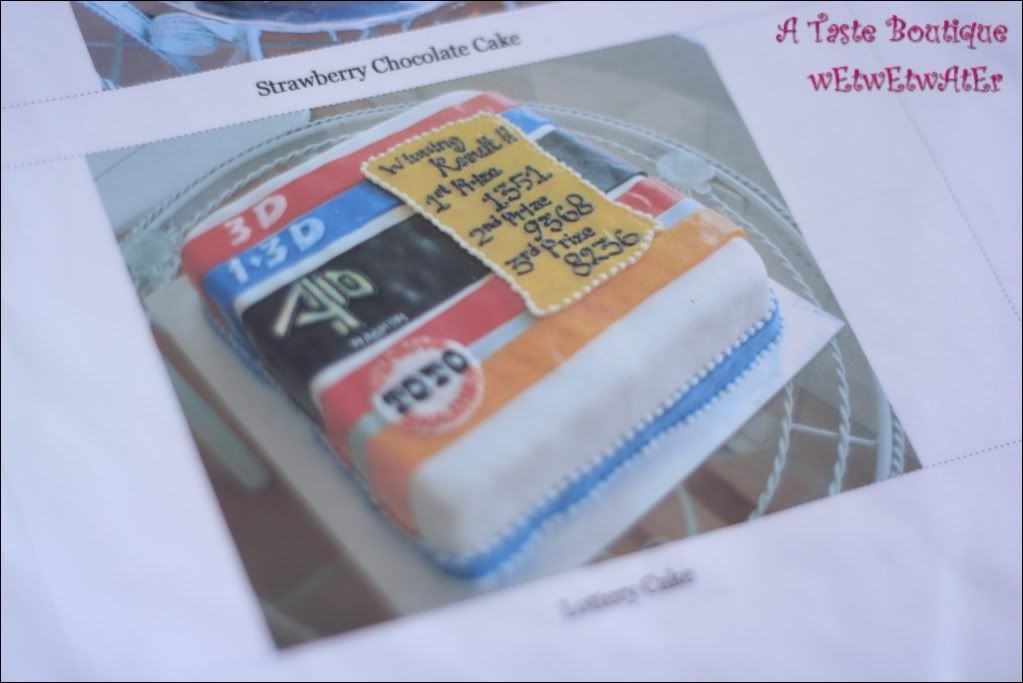 Interesting? Yes? No?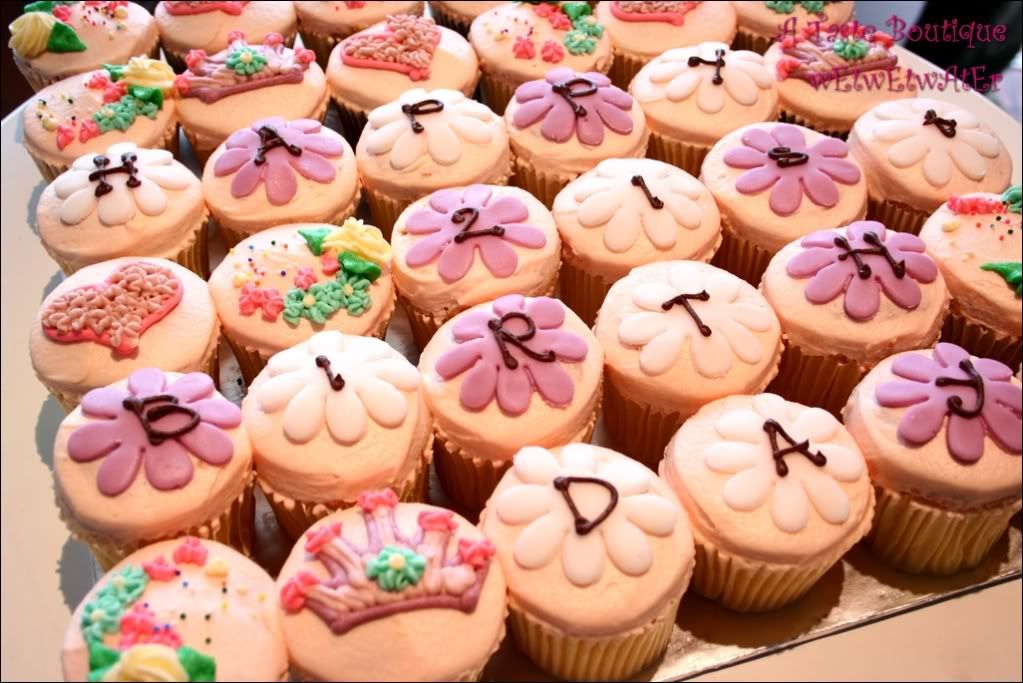 What about this?
Happy people that day,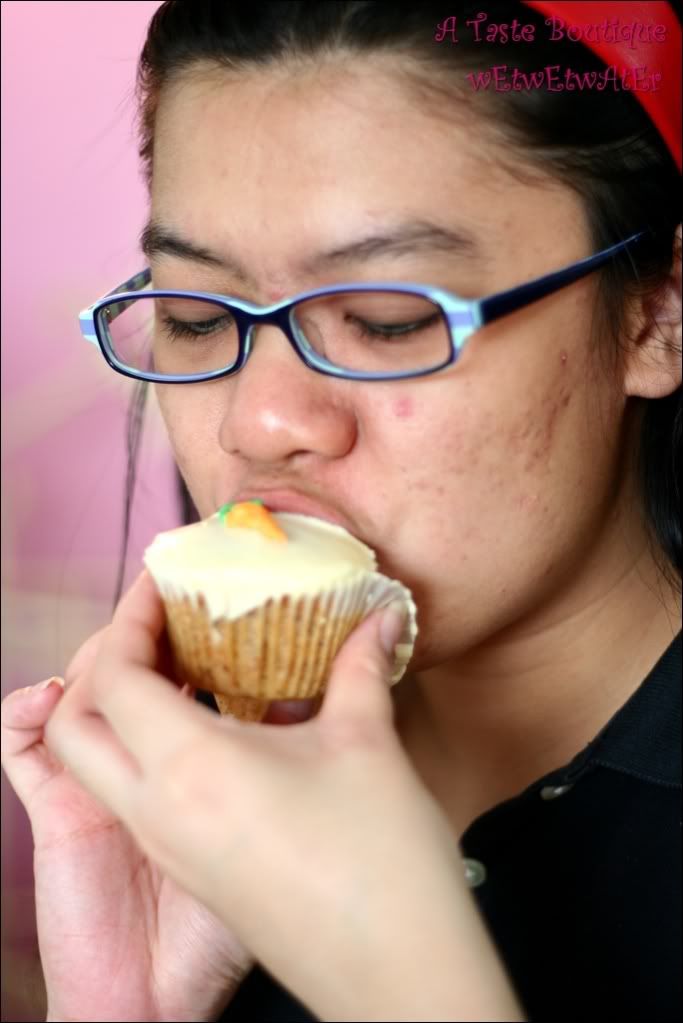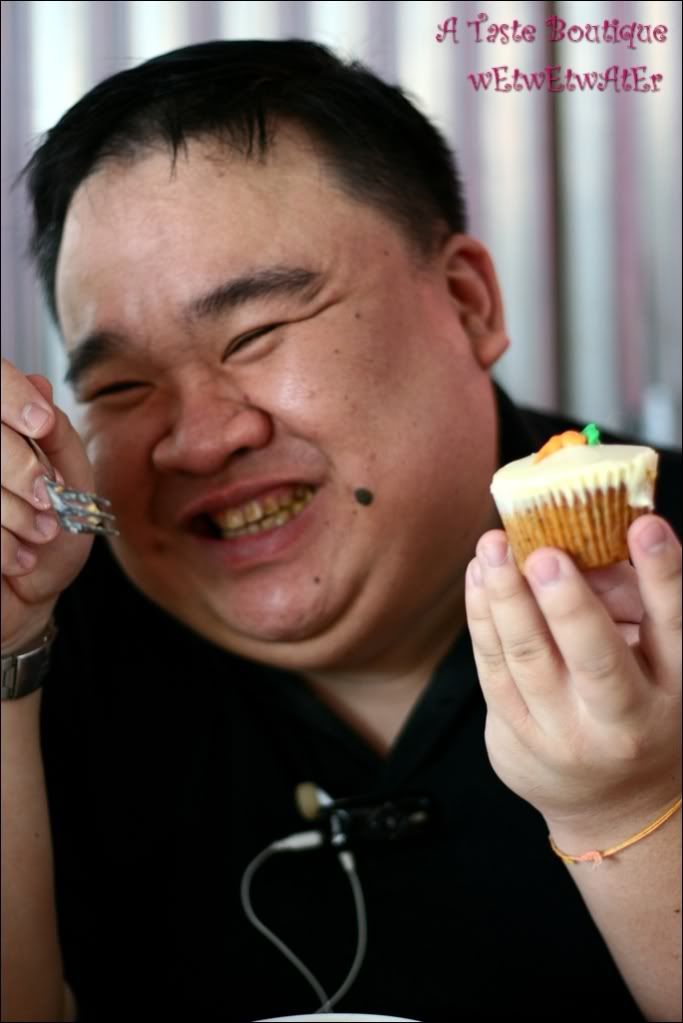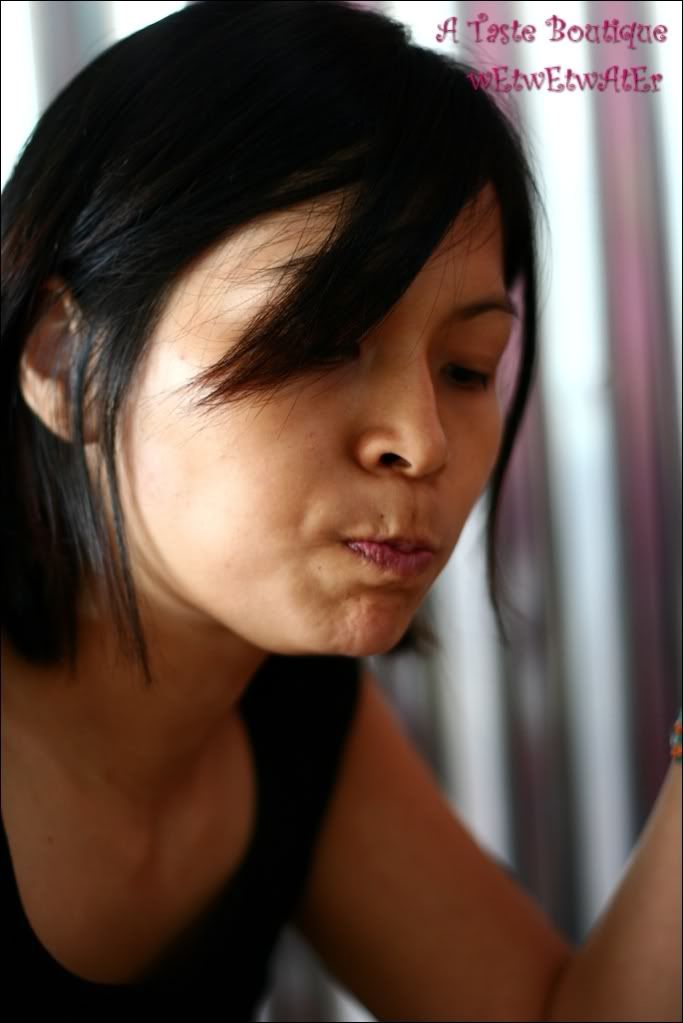 Sue of suemeifyoucan
,
Ken Chan of foodpoi
&
Rebecca of thenomadgourmand
A Taste Boutique
Address
A Taste Boutique Sdn Bhd
22, Jln Putra Markota 7/4b, Sect 7
Putra Heights 47650 Subang Jaya
Selangor, Malaysia
Contact
+603 5192 0577
atasteboutique@gmail.com
http://www.atasteboutique.com
http://atasteboutique.blogspot.com
Facebook Group
Business Hour
Monday to Saturday 10am - 8pm
Closed on Sunday & Public Holiday
Price
Standard Size Cupcakes (2.5inches wide)
Fondant Frosting (Hard Frosting): RM3.50 -> RM4.50
ButterCream Frosting (Soft Frosting): RM2.50 -> RM3.50
- minimum order quantity of 9pieces for Fondant and 20 pieces for ButterCream
Mini Size Cupcakes (50cents coin big)
Fondant Frosting (Hard Frosting): RM3.00 -> RM4.00
ButterCream Frosting (Soft Frosting): RM2.00 -> RM3.50
- minimum order quantity of 30pieces for both
Till then, take good care, God bless! Have a CUPCAKE day!